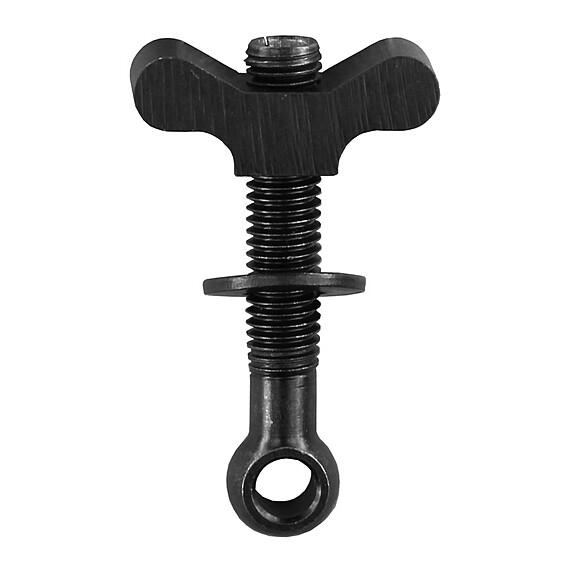 Mega-Coupler Bolt Assembly, Part # ML-SBA-B (Black) ML-SBA-M (Silver) Has 1 1/4" Hex Head Bolt with our wing nut and a 1" Belleville washer.)
---
Bolt assemblies are available for:
Black Anodized #MLB
Silver #MLM
Stainless Steel #MLMSS
Steel Wing Nut #MLM-SW
Hex Nut #MLB3/8
Each Bolt Assembly Set consists of the appropriate bolt, nut and Belleville washer for the Mega-Coupler.
The steel wing nut (SW), the hex nut (HN) or stainless steel (SS) assemblies can replace the standard wing nut assembly on any coupler.
---
HARDWARE PACK (see picture on right) -
#ML-HWP is the hardware for the bottom plate of either the # MLM or # MLB and consists of a 1/2"-13 × 1 1/4" Hex Head Zinc Plated Bolt, Nylock Nut and Belleville Washer.
Each Hardware pack contains 12 of each to fit 12 Mega-Couplers. Hardware packs are available for all Mega-Couplers. Hardware Pack for CS and 3/8 Hex contain 24.
---
SPIROL "Locking" PIN -
Is used to fix a Swivel Coupler into a stationary 90 Degree position.
---
SPECIAL M12 Metric Bolt for MAC101 -
M12 x 40mm Flat Head can be substituted for Flat Head Bolt on MLM1/2CS or MLB1/2CS.
---
Case Quantities

each
Order Codes
ML-HWP Mega-Coupler Hardware for MLM, MLB, MLM-SW, MLB-SW, Silver
ML-HWP1/2CS Mega-Coupler Hardware for MLM1/2CS, MLB1/2CS, Silver
ML-HWP3/8CS Mega-Coupler Hardware for MLM3/8CS, MLB3/8CS, Silver
ML-HWP3/8HEX Mega-Coupler Hardware for MLM3/8, MLB3/8, Silver
ML-HWPSS Mega-Coupler Hardware for MLMSS, MLBSS, Polished
ML-SBA-B Mega-Coupler Bolt Assembly for MLB, MLB3/8CS, MLB1/2CS, Silver
ML-SBA-M Mega-Coupler Bolt Assembly for MLM, MLM3/8CS, MLM1/2CS, Silver
ML-SBA-NH Mega-Coupler Bolt Assembly with Hex Nut, Silver
ML-SBA-SS Mega-Coupler Bolt Assembly for MLMSS, MLBSS, Polished
ML-SBA-SW Mega-Coupler Bolt Assembly for MLM-SW, MLB-SW, Silver
PS.219X2-ZP Spirol Pin used to fix Swivel Couplers into a 90 Degree stationary position, Polished
SF M12X40MM-APL M12 x 40mm Flat Head Bolt for MAC101, Polished
SF.5-13X1.50-APL 1 1/2" Flat Head Bolt
SF.5-13X2.00-APL 2" long bolt for MLM1/2CS and MLB1/2CS